Mining City disables withdrawals, initiates KYC exit-scam

Mining City has disabled affiliate withdrawals.
Starting October 16th, Mining City will only allow affiliates who've completed KYC to withdraw.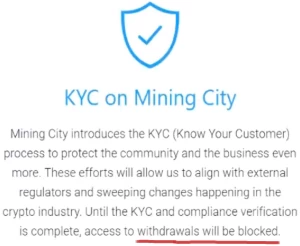 As announced in the backoffice on or around last Friday, Mining City claims it's implementing KYC because "regulations".
At Mining City, we always strive to protect the best interests of the community. The reality is that sweeping changes are happening across the crypto industry, and the pressure from external regulators on crypto companies and communities is mounting.

We strive to grow on a global scale and simultaneously offer the Mining City community an increasing number of interesting opportunities, products and services.

To protect our community and the business it is built around, we need to adjust it to the requirements of regulators. As an important step forward, we're introducing KYC requirements for all users.
Mining City has been committing securities fraud globally since mid 2019, they clearly don't care about regulations.
Instead we have the same old tactic of using KYC to limit affiliate withdrawals.
This works because people tend to sign up for Ponzi schemes with bogus details. Account stacking is also typically rife.
To complete the KYC procedure, your basic personal data and documents will need to be provided (such as your first and last name, date of birth, e-mail address, phone number and relevant ID document confirming the above, such as e.g. an ID card, passport or driving license).

In some individual cases, you may also be asked to provide additional personal data.
Mining City claim KYC verification will be provided through Sumsub, a third-party merchant that represents it's based out of London, UK.
Whether Sumsub knows its services are being used to provide KYC by a Ponzi scheme is unclear.
Mining City warns it might take "up to 15 business days" just to send verification emails out.
After that affiliates can look forward to processing delays of "up to 30 business days or … even longer".

After payouts through its original BTCV shitcoin tanked, Mining City pivoted to Electric Cash.
After the initial Ponzi pump, as I understand it ELCASH rewards have also tanked.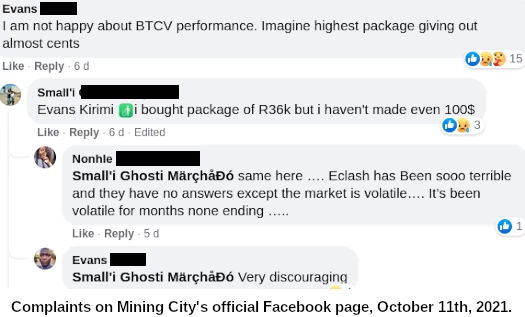 Short of launching a third shitcoin, it seems Mining City might be out of options. New investment certainly doesn't appear to be rolling in.
How long reducing withdrawals will last till Mining City is back at square one remains to be seen.